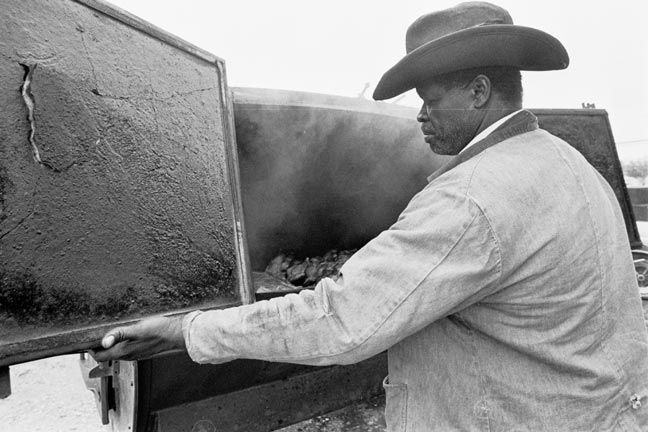 "Stubb" was born Christopher B. Stubblefield in Navasota, Texas, as one of nine sons from parents he describes as "real good cooks."
In the 1930′s, Stubb's family moved to Lubbock, Texas to pick cotton, and it was during this time Stubb learned to cook by working in local restaurants and hotels.
Stubb left Lubbock to serve in the Korean War as a staff sergeant in the 96th Field Artillery, the last all-black army infantry, where he was a gunner and a respected leader.
Stubb used this time to perfect his culinary skills by overseeing the preparation of daily meals for as many as 10,000 soldiers.
After he returned, Stubb eventually opened his first restaurant in Lubbock in 1968, across from the county fairgrounds. He made his first barbecue in the hickory pit behind his place and filled the jukebox with vintage blues music.
It was here that Stubb's Legendary Bar-B-Q was born…
In the 1970′s, Stubb's restaurant became the heart of an explosive music scene. Stubbs was ground zero for musicians like Joe Ely and Stevie Ray Vaughn. Other famous musicians who would "play for their supper" included Muddy Waters, John Lee Hooker, Willie Nelson, Johnny Cash, Robert Cray, George Thorogood, Clarence "Gatemouth" Brown, Linda Ronstadt and the Fabulous Thunderbirds.
Although small in size, Stubb's Restaurant was always filled with good friends, great music and plenty of Stubb's Legendary Bar-B-Q.
The Lubbock location is now closed but the legend continues here in Austin at 801 Red River. Come on down for some Live Music, Cold Beer and Great Food!